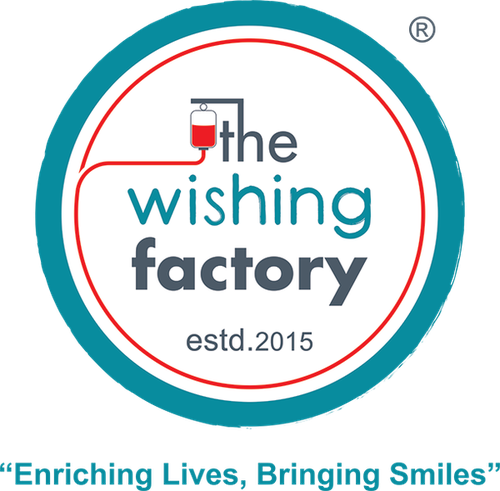 The Wishing Factory
The Wishing Factory works towards enriching lives and bringing smiles in the lives of Thalassemia Major Warriors in India.
The Wishing Factory (TWF), we're an 80G-ISO certified (ISO 9001:2015), Niti-Ayog Recognized, GuideStar Transparent & verified not-for-profit organization dedicated to improving and enriching the lives of young, underprivileged Thalassemia Warriors in India. Since our genesis in 2015, we impacted 10500+ patients in the areas of Healthcare, Experiences, Education, and Patient Welfare Activities. Our mission is to provide Thalassemia patients with state of the art healthcare facilities and psychosocial support while simultaneously working towards our vision of making India a Thalassemia Mukt Bharat and raising awareness about the importance of a Thalassemia Test.
Under each of the main thrust area we have conducted multiple activities which are as follows:
Healthcare- Healthcare of a Thalassemia Major is very expensive and as most of the patients belongs to the lower end of the society, it becomes very difficult for them to afford their Blood Transfusions, iron chelators, and other treatments plus the management of their disorder to keep it under optimum limits to maintain their health. TWF, hence is trying to make the healthcare necessities easily accessible and available for all the warriors that are connected with TWF all over India. Over the course of time TWF has been able to reach out to 10500+ lives pan India and helped them to have a healthy life. The services provided by TWF under healthcare are as follows: i. Free Blood Transfusion Facilities (inclusive of their Blood Transfusion, Blood Filter, Lunch, and snacks) ii. Healthcare/Check-up camps for Thalassemia patients. iii. Free Iron Chelators to the warriors who are adopted under the Schemes. iv. Iron Chelators and Blood Filters at subsidized rates to the registered warriors.
v. Iron Chelation Pump Library- Provide Pumps to our warriors to chelate the extra iron which has increased way beyond the prescribed limits, out from their bodies. vi. Blood Donation Camps- Arrangement of Blood Donors for Thalassemia Warriors to ensure uninterrupted blood availability for Thalassemia Warriors as it's the most vital source for their survival viii. Since the pandemic, we are also registering healthcare requests and inviting patient adoptions under this domain where donors can adopt a warrior for the warriors' quarterly, six monthly and yearly healthcare requirements. ix. Free HLA Testing Camps and support for the BMT procedure.

Infrastructure- TWF has set up various Blood Transfusion Centres and Wellness Centres in association with various corporates as well government agencies all over India. On an average, a patient is charged Rs.1,500/- to 3,000/- per transfusion every 15 days. We intend to set up centres in the rural parts of the country where accessibility and quality healthcare is not available and even if it is available in nearby towns/ cities by any chance, it is out of reach for them because of troubles faced during travelling, time constraints and the additional financial burden, for Thalassemia Warriors thereby expanding quality and free healthcare to the community that needs it the most. Watch Here:
i. TWF's Wellness Centre, Jaisalmer Rajasthan
ii. TWF's Blood Transfusion Centre, Dahod, Gujarat
iii. TWF's Blood Transfusion Centre- Vadodara, Gujarat

Experiences and Fulfilling Wishes- TWF was established with the motive to ease the pain and struggle that every patient goes through due to the rigorous blood transfusion process and other psychological as well as physiological stressors. The mere idea of one's wish completion has made patients in different cities look forward to associate with us. Thus, keeping our motive alive we have fulfilled more than 475 wishes so far in different parts of the country. The wishes are registered at workshops and events organized for the patients by TWF. Previously TWF has fulfilled various types of wishes like destination wishes, experiences, acquisitive or material based wishes, livelihood supporting or career building wishes. This year onwards we intend to focus on more meaningful and experience driven wishes. We are also looking at Wish Fulfillment from this year on as group birthday celebrations on a monthly basis. The birthday celebrations will be conducted in two parts on the same day: i. Birthday celebrations with activities, food, gifts, games and fun ii. Workshops- birthday celebration followed by meaningful workshops for children to be able to give Thalassemia Warriors exposure to skills, hobbies and experiences that would help them for their personality development and also give them an opportunity to explore their creative side.

Education- This sector focuses on providing scholarships to support school, college and course fees to the needy patients. The scholarships boost the patients' to continue their studies and explore more opportunities that come their way in order to become self-sustainable. We have various provisions to accommodate junior school, high school, extra-curricular activities and professional course based scholarships. So far we have supported 25+ warriors with scholarships in different fields across the country.

Patient Welfare Activities- We have been organizing physical activities like Celebrity Meetups, skill-based and education-based workshops, webinars, sports-based events, festive celebrations, and many more prior to the lockdown period and have gradually resumed ground activities. However, during the pandemic Covid-19, we shifted our activities to a virtual platform and have been able to engage our warriors through different workshops, live sessions and zoom sessions such as Personality Development, Mental Health Sessions, Diet-related, Yoga, Medical Issues related to Thalassemia, COVID-19 and Thalassemia, Eco-Rakhi and Eco-Ganpati, Organic Handwash Making Workshop, Hobby Activities and many more. So far we have conducted more than 560 patient welfare activities.

Employment Opportunities- Self-sustainability is a key to better living, therefore TWF aims to provide employment opportunities by fulfilling career –driven wishes, job opportunities within the organization as well as in other institutes through collaborations. This year we intend to launch programs in order to create more employment for patients as financial stability is crucial to obtain healthcare as well as support their own families.

Awareness- The category focuses to achieve the ultimate motive of TWF that is eradication of Thalassemia, by making people aware of how Thalassemia can be prevented and causes of Thalassemia as well as importance of blood donation. TWF organizes various events, campaigns, youth led fests, exhibitions and blood donation drives to create awareness and over 75 million people have been made aware about Thalassemia and the importance of taking a Thalassemia Test. We have conducted awareness sessions in the past at corporate offices of Zomato, Jet Airways, Cathay Pacific Airways, Raheja Universal, etc. and colleges like St. Xaviers College, DY Patil, Christ University among many others. We have also made an attempt towards making a Thalassemia Mukt Bharat through collaboration where mandatory Thalassemia Status Test Reports have been required by students to be submitted at the time of the admission process.
-Social Media Awareness Campaigns
1.#AadhiwaliZindagiMitao – (World Thalassemia Day'19)
2. #UltaHokeThalassemiaRoke- (World Thalassemia Day'20)
-What is Thalassemia?
i. Anaya's Red-Less Journey in English
ii. Anaya's Red-Less Journey in Hindi
-Thalassemia Mukt Bharat
i. The Partth Forward: Kunal Kapoor- A step ahead in making a Thalassemia Mukt Bharat and Fulfilling our founder Partth Thakur's dream
ii. The Partth Forward: Sonakshi Sinha- A step ahead in making a Thalassemia Mukt Bharat and Fulfilling our founder Partth Thakur's dream
iii. The Partth Forward: John Abraham- A step ahead in making a Thalassemia Mukt Bharat and Fulfilling our founder Partth Thakur's dream
iv. Importance of Taking The Thalassemia Test-Our Founder Partth Thakur and Kunal Kapoor
Donate towards our initiatives- We appeal to your humanity to support our brave warriors in getting their medicines and ensuring their health, and at the same time working towards a 'थैलेसीमिया मुक्त भारत'
To know more and contribute in other ways towards our initiatives, visit us via the zoom link.
Schedule
| | | | | |
| --- | --- | --- | --- | --- |
| Awareness About Thalassemia and its Prevention | Oct 2 - Sat | 10:00 | 17:00 | |
| Ways to Contribute Towards The Organization | Oct 2 - Sat | 10:00 | 17:00 | |
| Awareness About Thalassemia and its Prevention | Oct 3 - Sun | 10:00 | 17:00 | |
| Ways to Contribute Towards The Organization | Oct 3 - Sun | 10:00 | 17:00 | |
Activities
Volunteer
Donate
Give Resources
Create Awareness
Buy Products
Social
Join Now
Join Via Zoom
Redirects to Zoom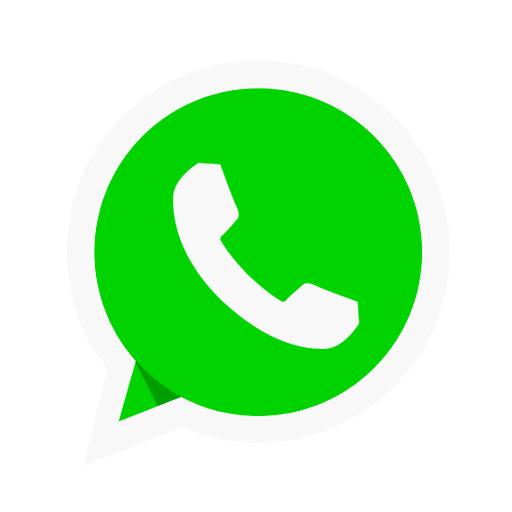 Chat now on Whatsapp
Join us on Whatsapp
Causes
Health
Education
Children
Disabilities
Geographies
All India
Donate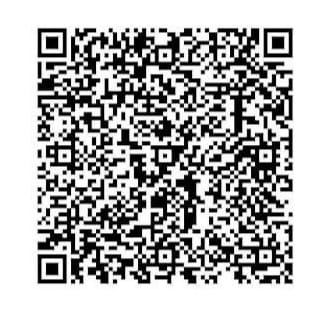 To Donate, Scan the QR Code
---
Be the first one to leave a note