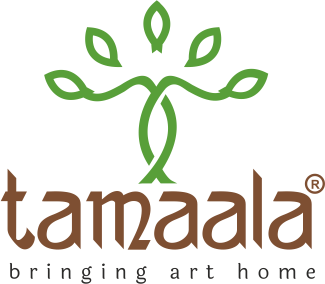 Tamaala helps in creating sustainable livelihoods for rural & tribal artisans, working in Indian art & craft forms.
Our objective is to generate employment among skilled artisans, facilitate co-creation between visual artists & artisans, act as a marketing platform for indigenous art and craft and generate awareness about these native art forms. Eventually, we would like to create an incubation centre for innovation in indigenous art.
We at present work with 150 + rural artisans from 15 out of 72 regions of Geographical Indication in India. Overall we are engaging with artisans from 39 craft & art clusters. Post Covid 19 our effort has been to maximise income for the rural & tribal artisans using design, our TMAP ( Terracotta Mobile Amplifier Project ) project is one such attempt.
We facilitate co-creation, through design discussions between artists & artisans.
We conduct workshops with artisans to build empathy and enable art appreciation among urban populace. We market the handicrafts as corporate gifting solutions. We have an art space located in J P Nagar, South Bangalore, which not only serves as a retail space but facilitates discussions & workshops.
Causes
Livelihood
Poverty
Geographies
Karnataka
Tamil Nadu
Madhya Pradesh
Gujarat
Rajasthan
Uttar Pradesh
Andhra Pradesh
Puducherry
Maharashtra
---
Tamaala is doing exceptional work. A great idea of making a difference to artisans lives matched with a perfect execution strategy, Tamaala products always bring images of vibrancy, liveliness, and hand skill and ingenuity of the rural artisans. Their Terracotta Mobile Amplifier is an epitome of creativity of the rural artisans that adapted to the technology generation. I wish all the best for all the endeavors of Tamaala.
~ Pawan Kumar from Bangalore
I wish and Pray for more Success and Good luck ,Really appreciate your services,....to all skilled artisans .
Tamaala vision of shining a bright light on our indigenous visual arts across the country while also helping our artisans earn a healthy livelihood doing what what they love the most. Suvarna and Vinay are amazing torch bearers of two above vision. They work tirelessly and give much more than they take. I wish Tamaala all success to grow from strength to strength.
~ Vaidy Bala from Bangalore
In my view 'CREATIVITY' is an integral part of all activities we embark, not restricted to creating few art artefacts. This is possible only when there is a constant engagement with ART & most importantly ARTISANS. TAMAALA uniquely identified this arena of bringing artisans forefront along with their art to urban consumers. I've been interacting with them for more than a year & seen their tremendous work in indigenous art forms of India. Their studio is hub for seeing unique art pieces, to meet artisans and even participate in workshops! Suvarna & Vinay at Tamaala are wonderful people to meet & hear their passion of creating sustainable livelihoods. Wishing them a fulfilling artistic journey!
~ Mahesh H Chithrappa from BANGALORE
Being an architect have been concerned about the the regressing and disappearing art forms of India in this connection I am extremely happy to see the social enterprise of sustaining art and craft through the artisans of various villages of India taken up by TAMAALA - which indeed is a very noble task. Tamaala is synergizing the artisans and the corporate world, by creating a culture of gifting of 'art forms', as also re energizing the link between art and interior design. The efforts of Tamaala in giving livelihood to artisans and reviving the dying arts and crafts of India is tremendous ! Kudos and congratulations Tamaala - Hats off to Shri Vinay Prashant and Smt. Suvarna !
~ Nitin Saolapurkar from Bangalore
I would like to Wish Tamaala team success in their Motive. Promoting the Artisans work will ensure livelihood for Artisans and also sustain the Art and work they are doing. Without such support Artisans and indigenous art will disappear in few years.
~ Anil Kumar M from Bengaluru