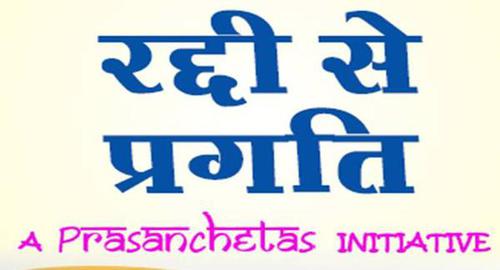 An Eco-Friendly Fund Raising Project where we collect raddi (newspapers) from the general public and make different products from it
Prasanchetas Foundation a non-profit company working for the health and safety of children which came into existence on 7th June 2018. To bring about not only a positive change but also a progressive and more of a permanent change, through the medium of education we create maximum awareness and sensitization. Aheading in our mission, we have been doing sessions and workshops to spread awareness and sensitization in the areas of: Child Sexual Abuse Self-Defence Personal Hygiene Menstrual Hygiene Mental Health Emotional Wellness Gender Sensitization Sex Education To create an enabled and empowered society, along with children, Prasanchetas Foundation has been spreading the awareness and sensitizing the parents, teachers, guardians and all the stakeholders in the life of a child across all divergent segments of the society from the most elite ones to the least privileged ones. In this direction of bring about a positive change and contributing more effectively towards the health and safety of children we have running these 2 prime missions as mentioned below: 1. Shatter the Silence - Against child sexual abuse In the present times of heinous crime and exploitation at its peak, the vulnerable children are most at risk. Yes, we actually wish to bring your attention towards one of the most chronic problem of child sexual abuse, prevalent all across the globe and amongst the children from all segments of the society. Specially in a country like India, where every 2nd Child is Abused. To cater to this atrocious issue of child sexual abuse, Prasanchetas Foundation, is doing a mass level project, of sensitizing and spreading the awareness against child sexual abuse across all segments of the society, under its mission "Shatter the Silence" for abusefree childhood. As the matter of the fact "Nobody wants to talk about it", we have taken our mission to the masses, wherein we have already trained and sensitized more than 50,000 students and their stakeholders (parents, teachers and other school support staff) about the same. We have covered more than 50 schools in the last 2 years of our existence and now look forward to take this mission to another "100 schools- 100 kms – 1 year" where we shall be covering 100 schools within 100 kms periphery of Chandigarh and primarily working in the interiors of Punjab, Haryana and Himachal. Apart from enabling the children with sensitization and awareness, we also look forward to Distribution of Child Safety Kit and Self Defense Trainings as more concrete measures to prevention, precaution and intervention against child sexual abuse. 2. Mission Pad Girls- To break through stereotypes regarding periods and achieve effective Mensutral Hygiene As we Indians are on this fast pace of progression, to move on from being a developing to a developed nation and with the women being more educated as an integral part of workforce. But then till date most of the educated women actually feel too shy or embarrassed to talk about their periods and related health issues confidently and openly. In fact, most of the women prefer to hide this one of most important truth about themselves and not reveal or discuss some most crucial concerns related to their health and hygiene associated with irregular and erratic periods, with most of the men, inclusive of male doctor and that too almost throughout their life. Yes, for how long will our girls and women in India will shy off from talking about their periods and that too with most of the educated boys and men and then keep suffering from various health problems and above that keep bearing the embarrassment of all the various stereotypes and the humiliation of being bullied by fellow boys. To overcome this major gap and to create a just society, where our girls and women have a complete understanding of this most natural process, which they go through every month and most importantly how to take care of themselves during periods by: * Being confident enough to talk freely and avoid the taboos around periods. * Ask for and seek help from both fellow women and also men. * Have an understanding of the benefits of using sanitary pads in place of cloth during periods. * Have an access to sanitary pads and should not shy off from availing this facility. * Overcome the pressures and suffering of various taboos and stereotypes. * Adopt to Healthy and Stress-free ways of undergoing Periods Mission Pad Girls has been huge success while all the more it has emphasized more to sensitize the boys more towards the natural process that the girls undergo and also sensitize the mothers of both sons and daughters to mainly influence her children towards the natural concept of periods. Prasanchetas Foundation has been working with Mission Pad Girls from last 2 year and been into awareness, sensitization and health and hygiene education of not only the girls with age of puberty but also the boys of the same age.
Prasanchetas Foundation came up with an Eco-Friendly Fund Raising Project with the name of Raddi se pragati where we collect raddi primarily old newspapers from the general public and make different products from them. And these products are then exhibited and put on sale at different locations and corporates so as to earn revenues from it and further financially support our endeavours.
Causes
Environment
Geographies
Chandigarh
---
Good wishes
~ Sumit Khurana from Chandigarh
Keep up the good work
~ Shruti Chatwal from Chandigarh