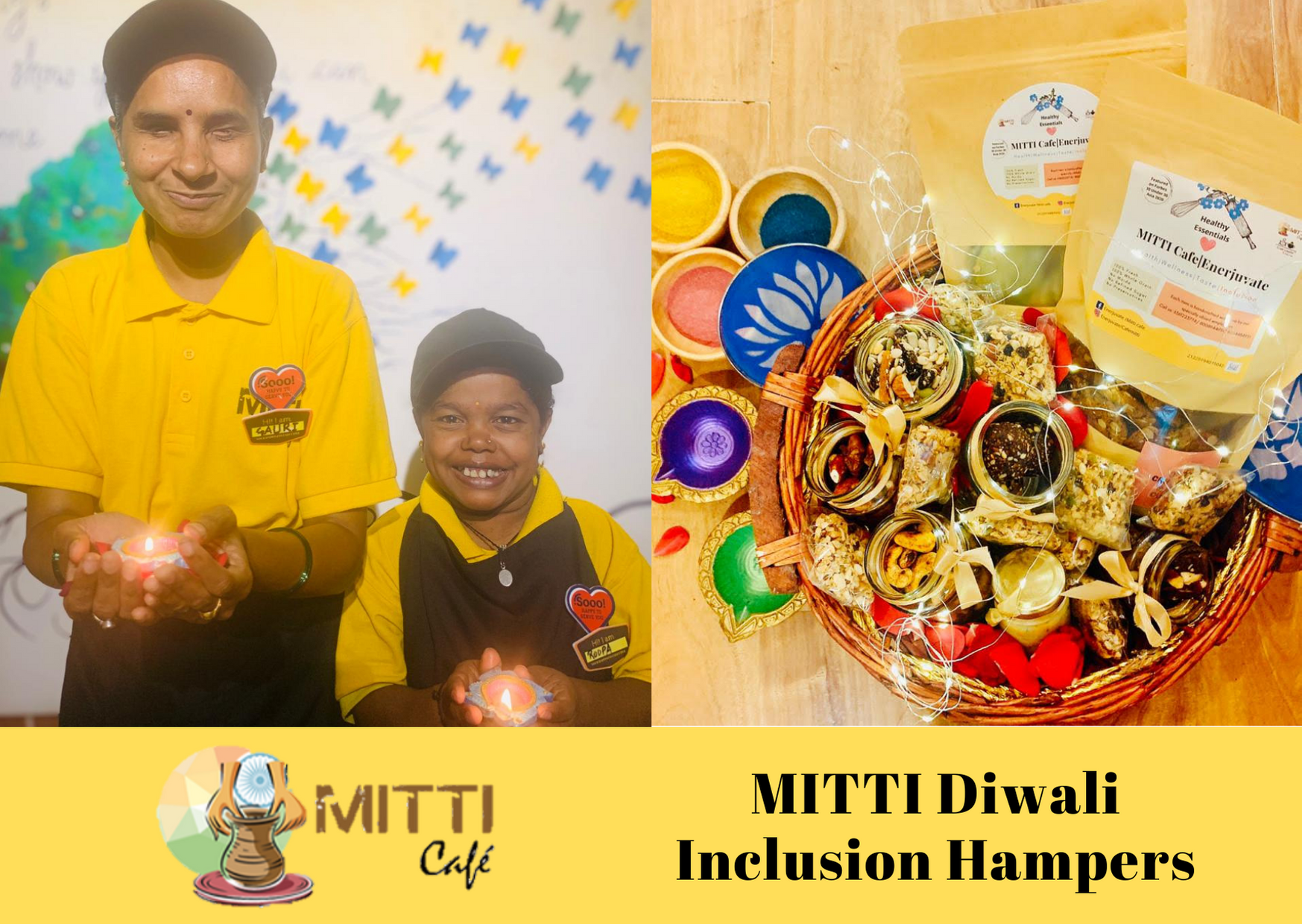 MITTI Cafe
Livelihood Development Program for Adults With Physical, Intellectual and Psychiatric Disabilities. [www.mitticafe.org]
Mitti Cafe is a non-profit organisation. We are a chain of cafes that are completely managed by adults with physical, intellectual and psychiatric disabilities. Our focus is economic independence and dignity for all.
In the last three years and experientially trained over 700 adults with a physical, intellectual and psychiatric disability, Through our cafes, our team of adults with disabilities have cooked and served over 6 million meals thereby generating awareness about inclusion.
Our team of adults with disabilities during the Covid-19 crises have cooked and served over 1 MILLION meals in the last 6 months to migrant workers, daily wage earners, homeless, families of persons with a disability, those affected by Cyclone Amphan and to caretakers of patients at charitable hospitals across Bengaluru, Kolkata, and the Sunderbans.
Our outreach initiatives foster inclusion and enable our employees to earn with dignity while raising awareness through natural interactions. Check out the links and join us in our journey to experience the power of abilities-
◆ Sponsor Karuna (Compassion) Meals [10 MEALS for INR 250]: to support our NO HUNGER CAMPAIGN for displaced migrant workers and for disaster relief aid
◆ Order MITTI's Festive Inclusive Hampers [STARTING AT INR 750]: a lip-smacking and pocket-friendly 'contactless' gift suitable for any festival (Corporate and individual gifting options also available)
◆ Volunteer with us - become a MITTI Ambassador
For more information, visit our social media profile or write to us at hello@mitticafe.org
Schedule
| | | | | |
| --- | --- | --- | --- | --- |
| Event 1 | Oct 1 - Sat | 2:00 | 4:00 | |
| Event 2 | Oct 1 - Sat | 2:00 | 4:00 | |
Activities
Volunteer
Donate
Create Awareness
Buy Products
Social
Join Now
Join Via Zoom
Redirects to Zoom
Causes
Disabilities
Livelihood
Poverty
Geographies
Karnataka
West Bengal
All India
Donate
---
Wonderful initiative. Wish all the best for this endeavour Stay blessed Loads of love and good wishes
Great project...👍awsm healthy snacks....Super efforts for humanity and service above self..🙏🙏 A great inspiration to the society..🥰
~ Meena Bhasin from Mumbai
Wasn't in a good mood since morning. A message popped up regarding virtual meet. And just in a minute or two after joining the meeting, i just forgot all my work, and was pumped by seeing people from Mitti Cafe😊 and also a few cute kiddos came up in meeting😄😁which made it more special☺️ Wishing the team Good Luck for the initiative you guys have taken. Hope this festive season goes well for you all😇 Happy Diwali 🪔
~ Kartik from Umbergaon, Gujarat
Fantastic initiative my dear friends ....I have shared this link with all my contact ... wishing you dear Laxmi ,all the best in this noble venture
~ Estrella Mathur from Mumbai
Amazing hardwork and attitude. Do keep it up💕
This is an excellent initiative. You are making them live a dignified life and be on their own. Compliments to the team.
~ Sanjay C Shah from Mumbai
Wish you a Happy Diwali.
~ Jyotendra from New Delhi
All the best guys..you are all an inspiration to life..god bless everyone..wish you the best of Diwali..
Keep up the good job,God bless you
~ Ankit Garg from Kolkata