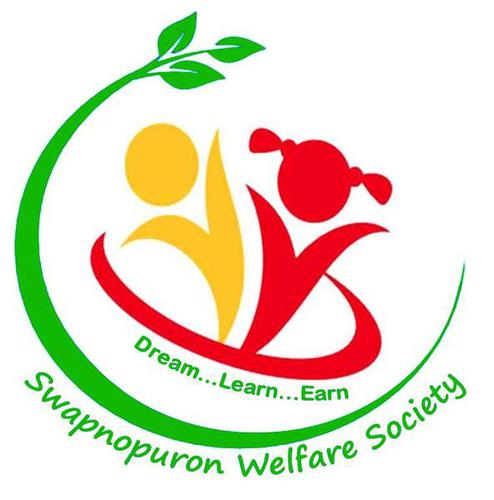 Katakhali Swapnopuron Welfare Society
Save Lives in Sunderbans
Katakhali Swapnopuron Welfare Society (KSWS) started its journey during 2012 in the islands of Sunderbans to serve the underprivileged children through Education and Child Protection. The organization has established the only English medium school in the islands of Sunderbans following CBSE Curriculum along with multi sectoral value addition inputs. More than 1000 children have received educational inputs and continuing their studies till date. The school was operational for up to Class IV till 2018-2019 academic sessions. In the 2019-20 academic sessions the organization has acquired a land for setting up a permanent structure for the school with addition of classes from V to VIII. The organization intends to scale up the school up to Class – XII level in next 5 years time.
The core areas of intervention for KSWS involve – Child Rights, Education, prevention from Trafficking & Child Marriage, sensitization on Menstrual Hygiene along with some intervention for the adults on Literacy and Women Empowerment. The organization strives to move ahead with the thematic areas of Education, Child Protection and Adolescent issues in spirit with the Sustainable Development Goals (SDGs), National Plan of Action for Children (NPAC) and West Bengal State Plan of Action for Children (SPAC).
Mission Creating a value based society for women, children, and adolescents towards ensuring their entitlements through Rights Based Approach by means of enhancing community participation and system strengthening.
Vision Empowering communities and promoting gender equality aligned with Sustainable Development
Goal The organisation looks at ensuring Rights and Entitlements for all children in spirit of the UNCRC and Sustainable Development Goals. While working in the remotest islands of Sunderbans, the organisation has revealed the reality of life situations of the children living in those islands. It has been observed the substantial numbers of children are vulnerable to all forms of abuse and exploitations. They are being deprived of their basic Rights by all means and are used for labour including being trafficked to other locations. Families of these children are left with no options when the traffickers lure them with several offers. The organisation has been able to collaborate with state and district administration for effective implementation of various Govt. schemes and programs including capacity building and monitoring support
Causes
Children
Livelihood
Disabilities
Geographies
West Bengal
---
I am truly amazed at the work that this organization is doing for the children in the Sundarbans! May God bless you all and give you the energy and blessing required in order to carry on this important work. I am certainly going to support this cause financially and ensure that at least there is no lack of funds for this important initiative to be successful!
~ Andràs from Switzerland
Katakhali Swapnopuran Welfare Society has ventured into life-changing work in the remote islands of Sunderbans- areas that are so far flung that most people would stay away. Within a very short span, they have made a huge impact and have drawn a blueprint for the future. Their efforts were evident during cyclone Amphan when, despite all odds, the team brought timely help to those stranded and in need of urgent relief. They have surely fulfilled many dreams and created hope for those who had been neglected for generations. Kudos to the team and best wishes for the future.
~ Malabika Pal from Delhi
Since more than one year, I am in close contact with Katakhali Swapnopuron Welfare Society, observed and reviewed some of the activities and found that organisation is working very well towards the way of children education, livelihood of needy women, culture and art as well. Organisation is having good presence in Sunderbans area of west Bengal. Organisation is working in a transparent manner as CEO Mrs. Strupa Majumdar is also associate with different CSOs networks, agencies like our NGO PATHSHALA. My best wishesh to Governing body and team. ~ Manoj Kumar Sircar from Kolkata
~ Dr.Parshuram Tiwari from Bhopal, MP
Swapnopuron is doing some amazing work with the kids in South 24 parganas. The trust that they have earned from the parents of the children studying in their school is heart warming. I wish them more luck for the hard work that they are putting in. Thank you.
It was really a blissful experience for me and my team to visit Swapnopuron Shishu Shiksha Niketan in Hingalgunj, Sundarbans. The devotion and commitment of the school management and teachers was really commendable. On the contrary, students were full of keenness and willingness to learn and grow. The hardship of life in Sundarbans is not unknown to us but on other side of the table, what is admirable and laudable was the the pure relationship of teacher and student who despite all the hardship and lack of modern facilities of education were striving to expand their knowledge base and grow. Visiting Sundarbans and interacting with those little children was probably one of the best real life experiences for me. Wishing for the betterment and growth of those children ♥️ Hope to visit them soon. Thank You Satarupa ma'am for giving us this opportunity.😊
~ Tarang Kanodia from Howrah
Gr8 work done by Swanopuron Welfare society!!!! Its due to their enormous hard work n passion that the people of Sunderland were able to get strength to build their normal life after the Amphan Cyclone.Also they are helping underprivileged kids to get proper education so that they can bcm self sufficient in future..A big Salute to all the ppl fighting in front line for the gudness of needy...
Words are really less to express the way Katakhali Swapnopuron Welfare Society has extensively provided relief support to the people in Sunderbans after the Amphan Super Cyclone. One lakh people have received relief support.With their rebuilding process by means of repairing 40 tube wells, cleaning up over 40 ponds sub-merged with saline water and building 100 houses for the affected people. Showed how dedicatedly they are willing to support and help all the vulnerable. Amazing work which has inspired many of us small to think and act.
~ Sagari Sahu from Samvalita Enterprises
Katakhali Swapnopuron Welfare Socity is Indeed a Wonderful NGO putting on Brilliant efforts in Academic's towards the Growth and the Welfare of those Children's who truly need as well as deserve a way for proper education to Selfstand and Grow in life. As For Reaching Individuals in Remote places taking along with All Tribes and Communities Caste and Creed, Its Truly needs a Courageous Effort and Hard work and we are Proud that NGO's like K.S.W.S are taking a Fruitful step aswellas giving a proper shape to future they all deserve. I am happy to see pictures of the beautiful children's Studying with an Proper Uniform dress codes, their Cultural activities, their Drawing and Craft events and May More activities such as Food distribution Specially During the Hard Times of Covid 19. Truly Appreciate all the work done by the AMAZING K.S.W.S All Member. My Gratitude and Applause to All of the K.S.W.S Members
~ Neilesh Karkera from Mumbai
I have seen many NGOs who are working for the welfare of the society but the way Katakhali Swapnopuron Welfare Society has been working from past 9 years is beyond my imagination. Adding to the same, recently, with 2 quick pandemics around Swapnopuron has ensured to serve and support each and every people across Sundarbans. Keep Serving!!
Great work Swapnopuron. You are very passionate about what you do and you do it very well. Power on and keep spreading the care and love
~ Chhitra Subramaniam from Mumbai
Swapnopuron is doing a really fantastic job in providing education and support to thousands of people in sunderbans. They have worked tirelessly during Amphan to provide basic necessities and ration to so many people who had lost their homes and shelters. Its commendable to see what they are doing. Well-done!
I know Katakhali Swapnopuron Welfare Society very well. They are doing remarkable work in the islands of Sunderbans. Please join their stall and listen about their activities. It would be good if you can extend your support for the development of the children in these islands.
~ Manoj Kumar Sircar from Kolkata
They are doing some amazing work.
~ Purti Agarwal from Kolkata