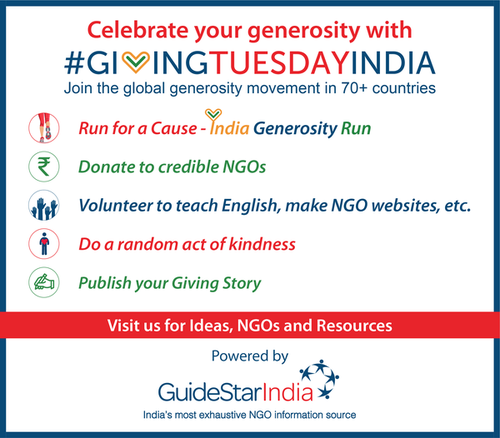 Celebrate your generosity and join the global movement in 70+ countries!
We will be doing a live interactive session on the benefits of GivingTuesday India Generosity Run and how you can promote it in the last few days and get participants. Please join us at at 4 PM and get all your queries resolved and learn helpful tips!
We have a rich repository of events and opportunities from credible NGOs for you to pick from, to express your generosity! Choose what you like from participating in the GivingTuesday India Generosity Run to combine your quest for fitness with goodness (you get to join hundreds of participants to collectively cover 79000 km that Gandhiji walked for India's freedom), to making a donation to a GuideStar India certified NGO (choose from 200+ options in Education, Healthcare, Livelihoods, Animal Welfare, Care for the Elderly, Women, Children, Disability, Environment, COVID Relief, etc.) to volunteering opportunities (teach English in 15 weeks, make NGO websites and more) to browsing through simple ideas to delight others with an act of kindness and to publish your personal giving story to inspire others!
We believe every single person has the capacity to impact another person's life, no matter how much or how little we have. We will be happy to guide you in making a choice and in celebrating your personal expression of generosity!
We will be donating Rupee One for every visitor for the first 10,000 visitors to our stall!
Happy Giving!
Visit- www.givingtuesdayindia.org
Contact us Mob. No.: 8356832329 Email: info@givingtuesdayindia.org
Causes
Philanthropy
Poverty
Governance
Civic Issues
Elderly
Other
Human Rights
Gender
Animals
Children
Youth
Environment
Livelihood
Disabilities
Disabilities
Health
Education
Geographies
All India
---
Very happy to join the stall. Got a very positive and prompt response from the team.  As a youth learned from the Guidestar team that the action should be prompt and positive. I am so happy because the response I have got from Guidestar India / Givingtuesday India was very prompt. The team is very helpful and Pushpa maam such an amazing lady I have come across.  Giving tuesday is the RAINBOW in every individual's life, every ngo....  because they really work so hard to help the individual / ngo / community and the society.  Thank you so much. 
~ Kajal Waghela from Mumbai
Ritu Sharma from Mumbai has pledged to help Giving Tuesday India by
Volunteering
Donating
Giving Resources
Creating Awareness